Exclusive Interview With Canadian Egyptian Celebrity Christine Solomon An Award-Winning Thespian On Her Work With Disney/Marvel Career & Business Ventures
We have been following Christine Solomon's career for a while, starting with Egyptian films and then on to Canadian and now American movies. Not only is she an actor but also an author, a business woman, a film juror and an advocate. Millions of viewers have seen award-winning actress Christine Solomon's work on major television networks and film production companies like HBO Canada, The Movie Network, Rotana Group (the largest entertainment company in the Arab World and a company owned by the Saudi Prince Al Waleed bin Talat), Ubisoft, as well as in print, online, and other advertising media.
Solomon's performance as an actor has earned her a national Madbakh Award, and the award- winning productions in which she had a pivotal or starring role also benefited from her contributions (HELIOPOLIS, BASRA, and BAFTA nominated RAINBOW SIX: SIEGE). The actor with a background in theater values the chance to support worthy causes. She has raised over 17 million dollars as the campaign's primary host for GMC and renowned actor Josh Duhamel. 110 million viewers were reached by the campaign, which is amazing. She also serves as the spokeswoman for the Rosacea Awareness Campaign of the Acne and Rosacea Society of Canada.
The National Post, The Globe and Mail, MSN Saudi Arabia, Variety, and Screen India, among others, are just a few of the prominent worldwide magazines and media outlets that have written extensively about Solomon and her work. In addition to being an official juror at a number of prestigious film festivals, including Scout Film Festival, The Iowa Motion Picture Association Film Festival, End of Days Film Festival, and New York World Film Festival, Christine has experience working on the other side of the camera. She has served on the 25TH ANNUAL SCREEN ACTORS GUILD AWARDS TELEVISION NOMINATING COMMITTEE. She founded Muze Consultancy in 2010, a firm that offers acting career guidance and continues to uplift and motivate performers, in Canada and USA.
Most recently, Christine worked on "Bullet Ride" and "My Stretch of Texas Ground," which are now streaming on Amazon Prime, appeared on the TV show "The Detectives," hosted on- camera interviews on the Tom Ford fashion show red carpet, and appeared in "Jacir," which stars Lorraine Bracco and is currently in post-production. In 2022, Christine will publish her second children's book, "Wishing Upon A New Moon," as well as a skincare line she is currently working on.
We are very excited to have you Christine! You have been a busy one! Please tell the Lavish Life readers how you find balance in your life?
I'm fairly organized. I believe it has always been there, even when I was a young girl. Organization is one of my absolute obsessions. Hence why in 2020, I decided to launch my own company Hill Weiser Publishing in order for me to share the love of organizational notebooks, planners, agendas and books in hopes in can help others too. We've actually published our Wellness notebook which I am pretty excited about since it includes all nine dimensions of wellness, which I haven't seen covered in any wellness notebooks yet. I maintain my organization in this way. I think this is essential if you want to live a balanced life. Everything is available on www.hillweiser.com.
Tell us about your upcoming movie "Jacir' starring Lorraine Bracco. It's an exciting project we've all been patiently waiting for!
Jacir is a heartfelt story directed and produced by Waheed AlQawasmi, a former creative director at Fox Television. It's about a Syrian refugee, played by actor Malek Rahbani, who has lost everything and must rebuild his life in America, this time on his own. He faces many tribulations and obstacles nevertheless finds hope and love again. I play his fiancé, the love of his life. I won't be able to give away too much of the story for obvious reasons but I can assure you that the audience won't be disappointed.
Your Marvel hopes came true this year. Tell us about it?
I believe that somehow I manifested. In almost every interview I've given over the past year, I've mentioned how much I love Marvel and how I'd do everything to be a part of their amazing projects. When that day finally arrived, I was in shock. I can now discuss it because I was previously prohibited from doing so for obvious reasons. I was hired by Disney to provide some voiceover and ADR work for the Mohamed Diab-directed television series Moon Knight starring the incredibly talented Oscar Isaac. It was an experience I will never forget. I can finally say I'm part of the Disney/Marvel family and I get to put that on my resume. It still feels so surreal.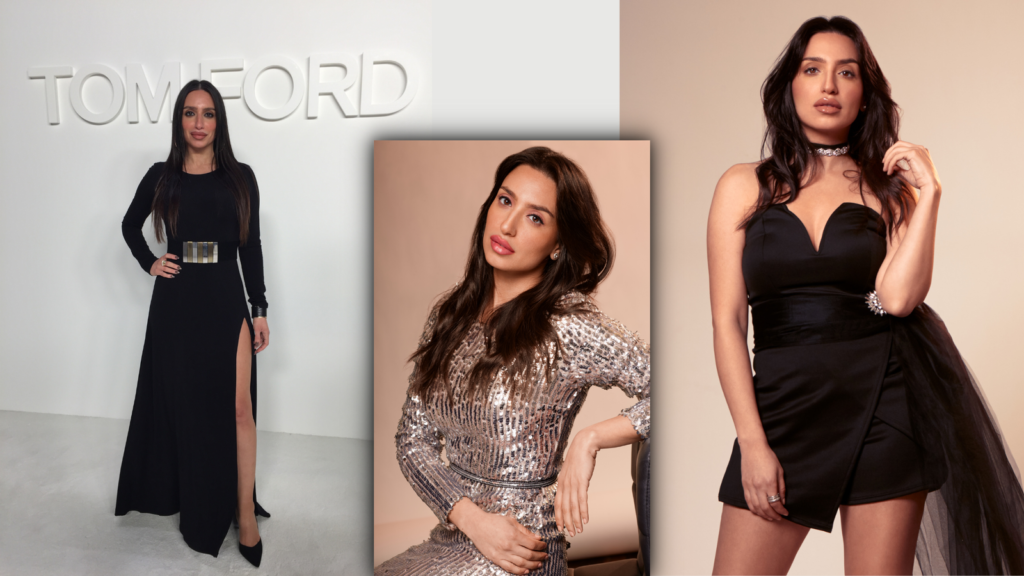 You help a lot of actors and individuals in the entertainment field. Please tell the Lavish Life readers how you gained all the experience and knowledge to be the best at what you do with Muze Consultancy?
I started Muze in 2010 because I wanted to assist others in achieving success and avoiding frauds in this business. I wanted to mentor actors and anyone who wanted to work in this industry but didn't know where to begin. Or for those who desire to advance their careers. Or for those who want to work in the States but don't know how. Over the years, I have increased my knowledge and expertise. I also have a vast network of resources that I can use to assist others.
I believe my purpose in life is to help others. The ultimate goal of anything I do, whether it be working on a film, a book, or launching my own skincare brand, is to help others while earning a livelihood. Over the years, we have assisted a lot of established and up-and-coming performers, and they still remember the work we did together. We also assist those who want to work in the US in the entertainment industry. We assist them with their application for an O1 Visa and a green card as well as their reference letters. We also provide workshops for individuals of all ages at a very affordable cost. At the end of the day, we want to feel proud of what we have accomplished in someone's life while also supporting and guiding them.
Your children book Odd Ed has been getting quite the buzz. Tell us about it and where can people buy it?
Odd Ed is about an egg named Ed. Who stands apart from his siblings in terms of appearance and behavior, and his siblings often make fun of him. An incident occurs in the story and his brothers and sisters quickly learn the importance of loving one another. And that we are all unique and that our differences are what help us succeed in life. Children should be taught courage, love, and self-acceptance, as well as not to criticize others because we all have distinct talents.
My hope is that this book will be helpful to teachers and parents to share with their kids to help them realize that their differences are to be cherished rather than criticized. I worked with a fantastic illustrator, Anastasia Balobanova, who brought Ed to life. She was very detailed oriented and incredibly patient. We've encountered many technical challenges but managed to accomplish something special. Odd Ed is now available on Amazon, Barnes & Noble, Book Soup, Skylight Books and on Hill Weiser Publishing's website.
As far as I know, the concept for your next children's book is entirely different. It's ironic that while working on the TV show Moon Knight, you also authored a book titled Wishing Upon a New Moon months prior. I think you really did manifested it!
Wow, I have never thought about it in that way! That's pretty cool! This book is very special to me. Not only is it different in terms of the plot but also in terms of style and artwork. The story takes place in Brooklyn, New York. It centers on Pepper, a young child who enjoys being in complete charge. Pepper constantly strives for perfection, but when her behavior interfere with her and her closest buddy Bremner, she must take responsibility for her actions. It's a unique picture book that shows how failing is an important part of learning, teamwork is key, and success does not need to be perfect.
Illustration were created by the incredible Nataliia Mazepa (noted two "I's" in her first name). Very unique artist who is extremely talented beyond measures. She puts her heart, mind, and most importantly her soul into all she does. Her portfolio stands out for its variety of styles. I feel very lucky to be working with her. I pay homage to both Tim Burton and Hans Zimmer in this book. They are both incredible artists and I am a huge fan of their work and hope to one day work with them. Maybe I will manifest this one too! Fingers crossed.
What's next for you?
We are still in preparation for Wishing Upon A New Moon and it should come out this year. I also launched a new YouTube channel called Sloans Road. It is a soothing and relaxing channel for the daily warrior inside of us. So, in addition to shooting content for it, I have also been busy creating videos for my Instagram and Tik Tok pages. I have started focusing on fashion and wellness posts since my friends and followers have asked me to do so. I hope people will like them, learn something new, and be motivated in some way to pursue a healthier lifestyle, as it has done for me.
Additionally, I've been working on creating my own skincare brand for the past three and a half years. I have been using those products throughout the years, and they have really helped keeping me youthful and timeless at any age. Last but not least, I have been working as an associate producer to a number of projects and am hoping they will soon come to fruition.
For more details visit www.christinesolomon.com
By Lavish Life Publication Editorial Team